February's here, which means Valentine's Day is right around the corner. It's the month of love, and regardless if you have a partner or not, it's a time of celebration – it's time for you to celebrate self-love, above all else.
We all know about self-love and self-care; there are billion dollar industries dedicated to self-care, such as spas, massages, bath bombs or scented candles. Don't get us wrong – self-care practices can pave the way to cultivating self-love, but it's not the core of it. Throwing in a bath bomb or using that 50 dollar body scrub can be ways of expressing love for yourself, but it's not exactly how you build it. True self-love is about making the right investments in yourself, that have nothing to do with your digital shopping carts.
When it comes to self-love, we've probably been subjected to many similar messages throughout our lifetime. One of the most common sayings out there is that "don't expect anyone to love you until you learn to love yourself", which is an extremely broad term, and not always true.
Many of us experience childhood trauma, difficult experiences or painful relationships with our friends and family. In this era of social media, it can be hard to love yourself when surrounded by -sometimes heavily altered – pictures from influencers or other people. Learning to love yourself after being subjected to pain or trauma can be difficult, and may even take years.
We're here to tell you that self-love is actually a skill that you can develop, similar to self-confidence. What exactly is self-love, and what are the benefits of practising it? How do we go about loving ourselves, when sometimes we're our biggest haters? Let's talk.
What It Means
Self-love is holding yourself in a positive light, having appreciation and affinity for the person you are, was, and will become. It's similar to having a relationship with someone else – having kindness, patience, compassion, curiosity and more. 
Of course, it doesn't mean being egotistical and narcissistic to the point where you remove yourself from accountability or responsibility. You shouldn't have the mindset that you are above all others, or that you're better than everyone else.
Instead, self-love is about allowing yourself the grace and forgiveness when you make mistakes, whether towards others or yourself. It's about believing in yourself, and trusting yourself to know your own strengths and weaknesses.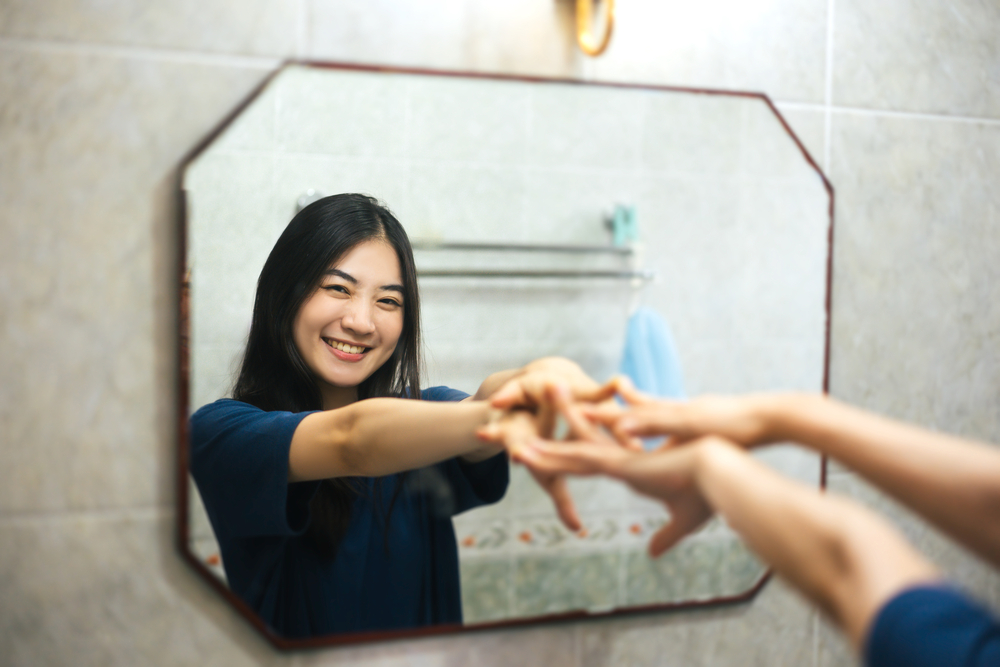 On the surface, these traits may look similar, but are vastly different. For example, narcissism is commonly linked to poor mental health. It comes hand-in-hand with insecurity, distrust and sometimes imposter syndrome. High self-esteem, on the other hand, has a positive impact on your health, mental fitness, and relationships.
Why Is It Important
Self-love motivates us to feel and think positively about ourselves, while reducing harmful behaviour. It empowers us to set boundaries, say no to things and take risks one step at a time. But it also protects us from self-sabotage, negativity and overall pushing ourselves deeper down the spiral.
It's important to learn that knowing when to say 'no' can sometimes be just as important as learning to say 'yes'. Learn to willingly accept good risks that can build higher resilience, empathy and efficiency – but also learn to set your own boundaries to avoid mental stress.
Most importantly, you are deserving of the love that you give to others without a thought. If you're someone that jumps to your friend's aid just because their grocery bag is too heavy, or they're short a dollar for parking, you're someone that understands empathy and compassion.
Most importantly, because you are deserving of the love you give so freely to others. This statement needs no explanation. You are worthy, just as you are, of love.
How Do We Practise It?
Think of it like getting into a new relationship, or starting a new hobby. When you make a friend, learn a new recipe, or even adopt a cat, there are learning curves to everything. You have to ask yourself questions, think about what works for you and what doesn't, and dip your toes into new territories. Be curious to learn more about yourself, to find new areas to love.
Most of all, be forgiving to yourself, and give yourself a break from self-judgement. Remember that we are our biggest haters, and once you move past that point, you'll likely start finding yourself pretty lovable.
Get Your Valentine's Gifts 2023 with FlowernBalloon SG
We're celebrating love this season with the best Valentine's Day gifts in Singapore. Whether you're getting a gift for yourself or for your beloved, check out what we have to offer. Get up to 10% off on our selected Valentine's Day bouquets today!
Visit us at FlowernBalloon today, the #1 place for hampers in Singapore. Free, same-day delivery available for orders made before 3PM!