It's officially Christmas season, and one of our favourite things to do as Southeast Asians is to think about food. From roast turkey to stuffed rolls, mashed potatoes to creamy soups, there are so many wonderful Christmas dishes to choose from.
Amid all these classics, we throw in a little Asian touch such as Chinese dishes, Indian curries or a variety of kuih. However the most popular food to have on Christmas is the food that you love, and that's the most important factor of all.
We've rounded up three popular Christmas foods for this festive season, to help you prepare for your own Christmas celebration this 2022!
Potatoes
Any Christmas roast needs a good serving of roast potatoes! They compliment any dish, and are delicious and easy to make. Soft and fluffy on the inside, while remaining crispy on the outside. You can roast potatoes in olive oil or butter, and add some crushed garlic, fresh rosemary and even a drop of lemon.
If you're not a fan of roast potatoes or lack the means to make them, you can never go wrong with classic mashed potatoes. All you need is hot milk, boiled russet potatoes and loads of butter, mixed and mashed into a mixer. If you're feeling fancy, add a dash of cheese to add flavour, or whip up some sour cream.
There are a multitude of potato dishes you could create on Christmas. To us, this humble little spud might even be what makes or breaks the perfect Christmas dinner!
Turkey and Gravy
Truly another Christmas classic! Turkey is associated with festive seasons such as Christmas and Thanksgiving, and is the crowning glory of Christmas dinners all around the world.
Turkey feeds a lot of people, and is perfect for big family gatherings. On the other hand, leftovers can be used to make turkey sandwiches or salads on the days after Christmas. It's common to serve a roasted turkey as the centrepiece of the table, dressed with fresh herbs and roasted vegetables.
It's recommended to serve your turkey along with a boat of thick, juicy gravy. You may opt to make gravy from the turkey juices, meat stock and salt, along with some cornflour to thicken. Add crushed garlic cloves and fresh herbs to bring out the flavour, and be prepared to dowse your turkey liberally!
Roast Beef
If you're not a fan of turkey, roast beef is also a staple Christmas dish! It's perfect for a small family or a couple, and it's more manageable and easier to cook. It's one of the kings of Sunday roasts, and pairs well with almost anything else. Choose your favourite cut and serve as your table's centrepiece.
You may opt for beef dishes such as beef wellington, another Christmas favourite! Pair it with a delicious parmesan and herb stuffing, and top it off with a wine sauce. Another option you can service is beef stew with loads of potatoes and carrots, which makes for a comforting Christmas meal.
If beef isn't available, or you choose to avoid it out of personal preference, chicken or lamb are also ideal alternatives. A plate of roast chicken or a serving of lamb shank in a light mint sauce is perfect for the festive session. It's equally tasty and succulent, and pairs just as well with all the other traditional Christmas dishes!
Shop For Christmas with FlowernBalloon SG
Discover the best Christmas hampers in Singapore with us at FlowernBalloon today! Welcome the festive season with our extensive selection of Christmas food gifts, flowers, exquisite wines and more. Visit our Christmas category to explore today!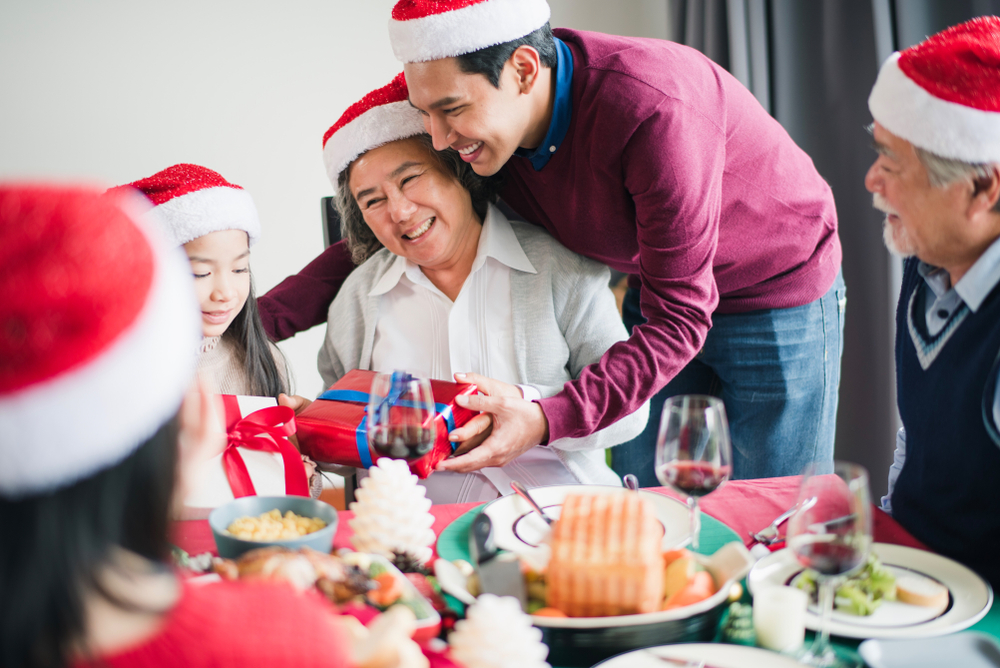 Shop with us for the best Christmas food hampers today. We offer free, same-day delivery for orders made before 3PM.