Are you looking for last minute Hari Raya gift ideas to give to your family and friends?
You don't need to look any further! We've listed down four of our favorite hampers in Singapore from various collections! Let's go through them shall we: 
Radiant Wishes For You
It's a joyous celebration and what better way to celebrate it with our latest shiny addition, Radiant Wishes For You. This hamper is filled to the brim with sunny snacks and treats, to brighten your recipient's day.
It's also the perfect way to surprise your loved ones, or be an incredible gift to bring over to their house when visiting to celebrate raya together.
Endearing Wishes
Next up, is our Endearing Wishes flower and balloon arrangement that offers the warmest and heartfelt wishes to your recipient in the most unforgettable way.
From Roses, eustoma and matthiola to personalizing your own message on the balloon, this beautiful handcrafted hamper is just the right sentiment for any occasion, especially during the month of Syawal.
Basket of Happiness
Our Basket of Happiness will help keep the smiles wide during any occasion, especially if your recipient is feeling a little bit under the weather. From mouth watering cookies to sweet crunchy snacks, this will definitely put a smile on anyone's face!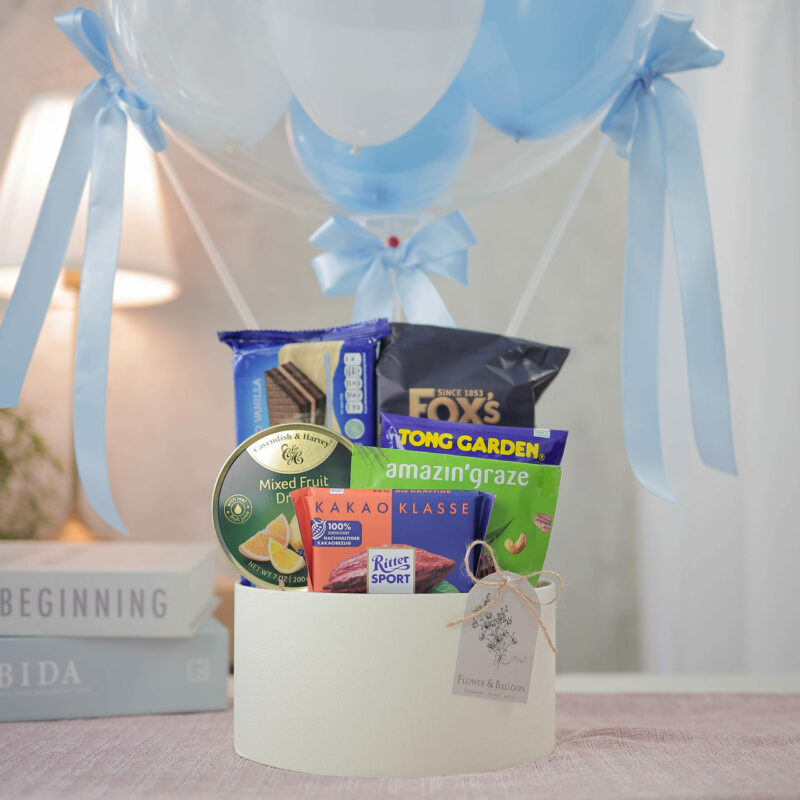 To make it more special, you can write a heartfelt message to go along with it or choose from our other wide range of get well soon hampers.
Baby's Breath
Let's celebrate both Hari Raya and the welcoming of a new family with the Baby's Breath baby gift hamper! It's the perfect gift to congratulate your friends on their special arrival.
Filled with essentials, this newborn baby boy hamper features the BabyK 100% cotton 4-piece Gift Set, teethers and silicone spoons that new parents will be delighted to receive!
Shop with FlowernBalloon SG Today!
If you're looking for more Hari Raya goodies or flowers and balloons online, check us out over at FlowernBalloon today! We are a flower store in Singapore, offering a variety of halal food hampers and other gifts suitable for the festive season.
Order today and enjoy free, same-day flower arrangements delivery for orders made before 3PM!