Just as High School Musical 3 Senior Year promises, it's gonna be a night to remember!
After almost two years of limited social gatherings, prom season this year is going to be big. Prom planning committees are scrambling to pick venues, dates, times and most importantly, themes. The prom theme is the main event really – it essentially sets up the entire night! From decoration to music, to dresses and merchandise, it should be a theme that would be remembered for years to come.
The magic is all in the planning. It's more than finding the perfect corsage, or looking at the best gifts for her. Beyond the tux or dress, or the prom king and queen of the night, the prom theme is what makes it or breaks it. Set the tone for your first prom experience, and check out our favorite three prom themes for the season!
It's gonna be a night
To remember
Come on now, big fun
It's gonna be the night
To last forever
We'll never, ever, ever, forget
Red Carpet
Go big or go home. The red carpet theme is a classic, and guaranteed to make attendees feel like the star of the premiere.
Roll out the red carpet and throw in lots of sparkle for the decor. We're thinking roses, chandeliers, and spotlights, combined with eager paparazzi with cameras and lights. Long tables draped with velvety tablecloths, filled with an array of punch and other sparkling beverages. You could even have a mocktail bar that serves tidbits and bite sized treats before and after the main event.
Imagine walking down the red carpet with lights flashing at you from every angle, as you inhale the sweet, buttery scent of freshly-made popcorn. Build a photobooth where attendees can take pictures of their fashionable outfits, which can be printed on the spot for memories!
As an added bonus, students and faculty can dress up as famous Hollywood stars. It'd definitely be a memorable sight to see your principal dressed as McDreamy from Grey's Anatomy, strutting down the aisle in a doctor's coat, or your science teacher showing up in a full blown Shang Chi fit.
Garden Party
In a tropical country like Singapore, it's not uncommon to host garden parties – just be sure to do it on a hot summer night with no chance of rain. Style up your own prom night, Gardens by the Bay-style, and turn your venue into a magical night garden!
The idea of a garden party is very romantic in principle – attendees get to roam amongst picturesque trees and vibrant flowers while enjoying the cool evening air. The air is filled with the rustling of leaves and summer dresses, with the golden glow of fairy lights and the warbling of a live band playing in the background. For those highschool sweethearts, decorate your prom tables with candlelight to create a more romantic atmosphere.
Decorate your garden venue with white blooms such as lilies or white roses – they're able to reflect the light of the moon and give off an ethereal glow to the garden party. Imagine white tables laid with gold and silver decorations, with an exquisite flower arrangement in the middle. Hang up fairy lights or drape them along fences, gates or walls for a magical touch!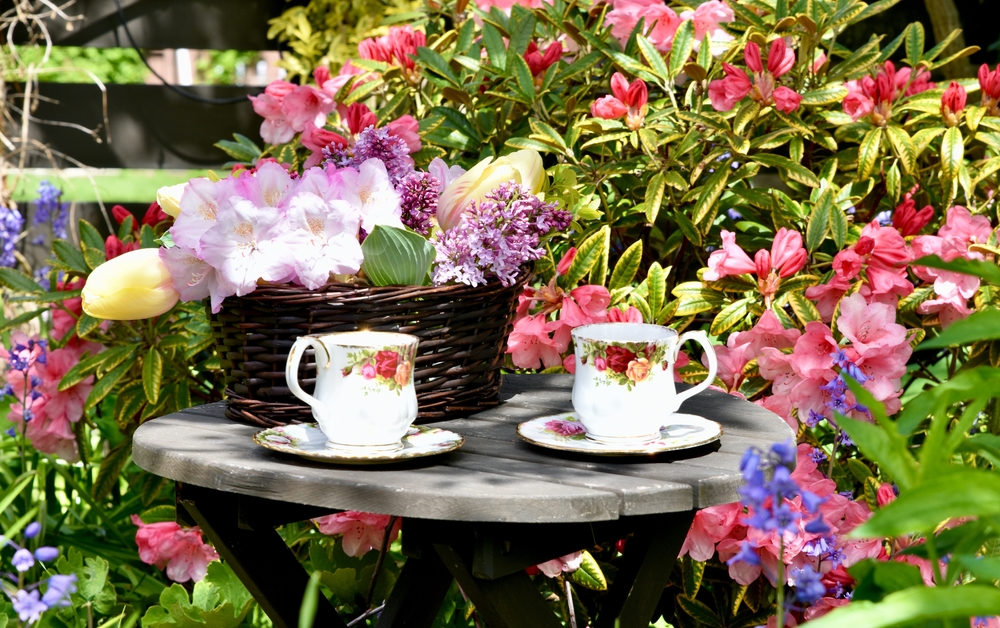 If you're not looking for a typical, sit-down dinner but rather a golden hour bonanza, try out picnic set-ups! Picnic tables with checkered cloths, straw baskets, tea sets and throw blankets – truly embodying a laid-back, but thoroughly stylish vibe for a prom theme. Arrange small bouquets of flowers in teacups or baskets, and serve mini pastries like buttered scones, jam tarts, iced donuts and finger sandwiches.
Masquerade Ball
Elegance and mystery is the essence of this prom theme – or should we say, the ball? Masked in mystery and draped in decadence, a masquerade ball is nothing short of magical.
Lacey frills, silk gloves and felt top hats, paired with sparkling masks. Draped in decadence, a masquerade ball promises a magical night inspired by the Renaissance movement. Host an unforgettable masquerade-themed prom night, and it very well may make, as Lady Whistledown says, 'the most remarkable coup of the season'.
This prom theme involves lots of vintage tablecloths, floral arrangements and old candlesticks and candelabras. Drape silk or velvet around furniture and walls, and fill vases with large fluffy feathers and beads. Create art pieces for wall features or table centerpieces with masks and use lots of glitter, sequins and even more feathers!
If you're going for the Bridgerton aesthetic, use lots of wisteria in your flower arrangements! Bring out the teacups, teapots and saucers as fancy centerpieces, combined with white or pastel-coloured cake stands. Complete the look with handwritten notes decorated with gold wax and dried flowers.
If you have the extra budget to do so, hire a string quartet for the evening, or employ your school's local band to do so. Alternatively, playing the entire Spotify list of Taylor Swift songs covered by string quartets over the speakers works too! Music will truly add that little touch of extra magic to your evening, as you watch your fellow students waltz the night away.
Make It An Unforgettable Prom Night With FlowernBalloon!
Looking for the perfect flower bouquet in Singapore for your prom date? We got your back! Check out our Flower category – may we suggest our bestselling Magical Minstrel bouquet for the lucky individual? It's a bouquet of flowers and balloons in a blushing display of soft pink roses, eustomas, gerberas, waxflowers, carnations and the lush greens from hypericum and coin leaves. This florists' pride boasts pink perfection to convey your best wishes as the ultimate prom night bouquet!
If your recipient isn't a fan of flowers, maybe you'll be in the market for a gift hamper in Singapore. Check out our shop, where we have everything from food hampers to candle gift sets.
Visit us at FlowernBalloon today! We ship for free for orders placed before 3PM. Check out our Customer Care for more information today.