Ghost Month has once again rolled around the corner, with the Hungry Ghost Festival approaching rapidly. For most of the Chinese folk, it's the first Ghost Month in a couple of years, where we're out and about once more, preparing offerings and burning incense to honor our ancestors.
In the spirit of this hallowed month, many people create flower arrangements to present their offerings to the deceased. In true Chinese tradition, some of these flower arrangements hold deeper significance. It's important to understand the types of memorial flowers and arrangements that are commonly used in offerings. Iif you're especially superstitious, these flowers are able to convey your feelings to your ghostly relatives and friends.
One of the main reasons we offer flowers to the dead is to show support and strength to those who have lost loved ones. It demonstrates love and respect for the deceased. It also adds a touch of beauty to offerings, and can add a splash of color to what is usually a solemn occasion.
Even if you don't practice offering flowers and food to the dead, there are a few of these flowers that are commonly used during memorial ceremonies or funerals. Here is a quick guide on some popular memorial flowers, and all you need to know about creating a beautiful offering for a deceased loved one.
Lilies
Funeral parlors are often said to smell like lilies – and for good reason too. In older times, when people buried their loved ones, lilies were used to mask the scent of the corpse due to their strong fragrance. Since then, white lilies have often been considered to be the go-to funeral flower. They are also used to represent death and rebirth.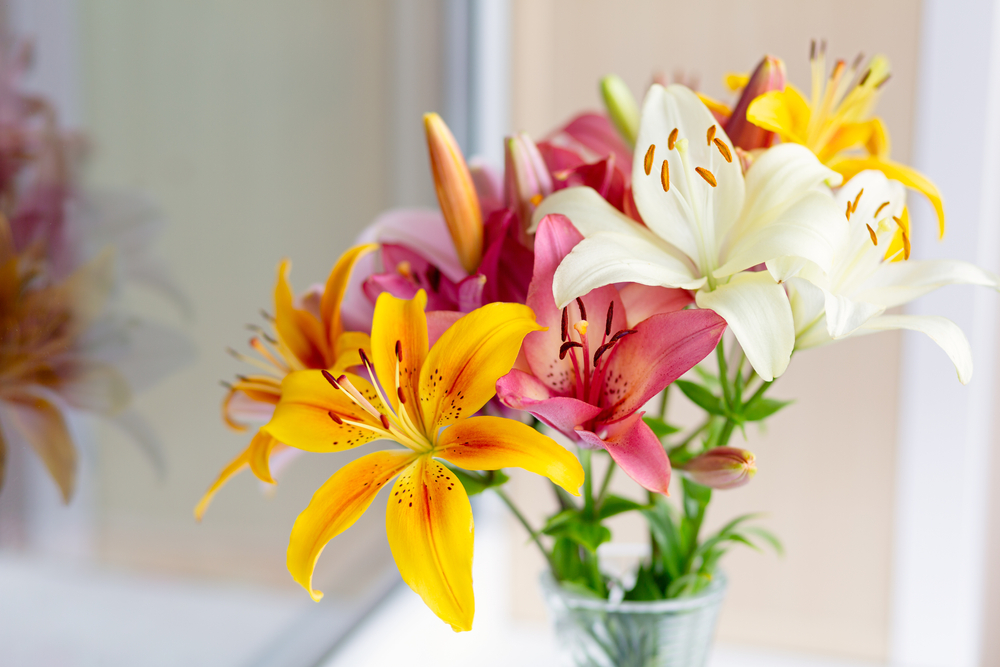 Another popular belief is that lilies represent that the soul of the deceased has returned to peace . They have been restored to their state of innocence, and have peacefully departed this earth. Christians in particular believe that lilies symbolize purity, virginity, and radiance. The Virgin Mary's tomb was also believed to have been covered and decorated with white lilies.
Lilies work well as both flower arrangements and condolence bouquets. Send a bunch of white lilies to a grieving friend, or decorate your Ghost Festival offerings with these exquisite fresh blooms.
Roses
Similar to lilies, roses are commonly used as memorial or funeral flowers. White roses are especially popular as the ultimate symbol of spirituality, purity, and innocence. These flowers can be mixed with other blooms as offerings, or used in wreaths or sprays.
Another popular color is red. The classic, deep red of a rose is believed to evoke both love and grief in the spirit of one's passing. Funeral homes and memorial parlors often use red roses in their flower arrangements for loved ones. Some may present yellow roses for close friends to represent the bond they shared in life. Dark pink is given to express gratitude to someone they looked up to.
Orchids
Regardless of the color of an orchid, it always has the same meaning – "I will always love you".
Orchids are known to symbolize undying love, rebirth, and renewal. They're not too fancy, but are able to convey your feelings while adding a touch of elegance to your arrangement. They are the perfect blooms to place in memorial arrangements or offerings. As a bonus, they last pretty long too!
Chrysanthemums
Unlike other flowers, the meaning behind chrysanthemums varies globally. In America and Europe, the meanings focus on sympathy and honor. The color plays a role in the meaning as well. Red symbolizes love, while white symbolizes innocence. In countries such as France, Belgium, Italy and Austria, white chrysanthemums are used as a token of grief and comfort.
The meaning behind chrysanthemums tends to vary from culture to culture. For example, Western countries believe that chrysanthemums represent honor and sympathy. For Asians, chrysanthemums are believed to be a symbol of rebirth. White ones are commonly used to honor a recent passing in the family.
Carnations
An accessible and inexpensive bloom, carnations are often the first choice for large floral arrangements for memorials and funerals. They also last longer than most flowers, which makes them the perfect flower for an offering.
As with most flowers, each color may represent a different meaning. Red carnations show affection, while white represents innocence. Christians and Catholics often use pink carnations for memorial or funeral arrangements as they believe that they were created from the Virgin Mary's tears, and represent remembrance.
Shop With Flower & Balloon Today
Flower & Balloon is dedicated to bringing you the best of both worlds, with our premium floral arrangements alongside custom balloon gifts. Rediscover the wonder of elegant gifting made easy with us, with flower arrangement delivery available throughout Singapore.
If you're in the market for some flower offerings for Hungry Ghost Festival 2022, you might be surprised by what we have to offer! Visit our shop page to find out more about our offerings, or reach out for information and custom enquiries.